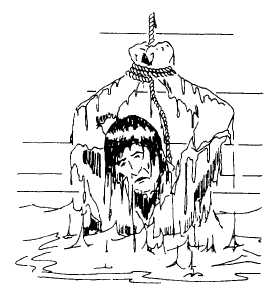 used in the process of running a division and the
Manual for Courts-Martial, United States, 1984,
Navy.
Washington,   D.C.,   1984.
REFERENCES
Standard  Organization  and  Regulations  of  the
U.S. Navy,  

OPNAVINST  3120.32B,  Chief  of
Basic  Military  Requirements,  

N A V E D T R A
Naval  Operations,  Washington,  D.C.,  1986.
12043, Naval Education and Training Program
Management  Support  Activity,  Pensacola,
United States Navy Regulations, 1990,  

Secretary
Fla.,  1992.
of  the  Navy,  Washington,  D.C.,  1990.
KEELHAUL
TO  BE  KEELHAULED  TODAY  IS  MERELY  TO  BE  GIVEN  A  SEVERE  REPRIMAND
FOR  SOME  INFRACTION  OF  THE  RULES.
AS  LATE  AS  THE  19TH  CENTURY,
HOWEVER, IT MEANT THE EXTREME.
IT  WAS  A  DIRE  AND  OFTEN  FATAL
TORTURE EMPLOYED TO PUNISH OFFENDERS OF CERTAIN NAVAL LAWS.
AN OFFENDER WAS SECURELY BOUND BOTH HAND AND FOOT AND HAD HEAVY
WEIGHTS  ATTACHED  TO  HIS  BODY.
HE  WAS  THEN  LOWERED  OVER  THE  SHIP'S
SIDE  AND  SLOWLY  DRAGGED  ALONG  UNDER  THE  SHIP'S  HULL.
IF  HE  DIDN'T
DROWN-- WHICH WAS RARE --BARNACLES  USUALLY  RIPPED  HIM,  CAUSING  HIM
TO BLEED TO DEATH.
ALL NAVIES STOPPED THIS CRUEL AND UNUSUAL PUNISHMENT MANY YEARS
AGO AND TODAY ANY SUCH PUNISHMENT IS FORBIDDEN.
6-32