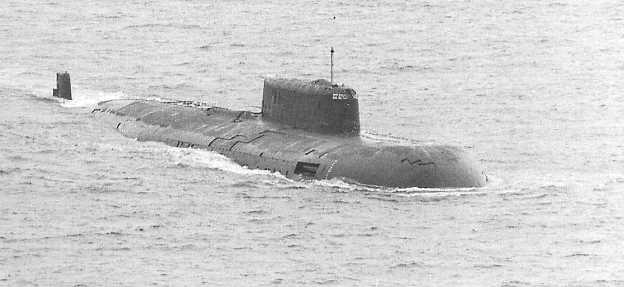 and  new  130-mm  dual-purpose,  twin-gun  mount;
and the Udaloy's SA-NX-9 SAM.
Presently,  the  Soviet  navy  includes  about  185
surface    combatant    ships    and    craft    carrying
surface-to-surface  missiles.  In  addition,  nearly  70
of   the   navy's   submarines   carry   subsurface-to-
surface  missiles.  The  Kirov  and  Slava  cruisers
(introduced in 1982) and the Sovremennyy DDG's
have  greatly  increased  cruise-missile  firepower.
They  carry  antiship  missiles   with   performance
characteristics that make offensive tactics increas-
ingly difficult.
Also  entering  the  fleet  during  1980  were  two
general-purpose  submarines  classes,  the  Oscar  I
(fig. 1-5) and the Kilo. Those in the Oscar  I  class
are   nuclear-powered,   cruise-missile   attack   sub-
marines  (SSGN).  They  have  slightly  over  three
times    the    displacement    of    their    functional
predecessors, the Charlie II-class SSGNs, and can
carry  24  ASCMs.  In  wartime,  the  Oscar  I-class
submerged-launch     SS-N-19     ASCMs     will     be
targeted  primarily  against  NATO  carrier  battle
groups.  In  contrast,  the  Kilo-class  diesel-electric
attack submarines (SS) are relatively small (about
3,000   metric   tons).   These   submarines   rely   on
antisurface  or  ASW  torpedoes  and  were  designed
for  operations  primarily  in  sea  areas  near  the
Soviet Union.
The  Oscar  I  and  Kilo  classes  of  attack  sub-
marines are noteworthy in that they typify recent
Soviet naval construction  trends.  Specifically,  the
Soviets  have  continued  building  naval  platforms
capable of operating in the open ocean. They have
built    these    vessels    without    sacrificing    those
designed to perform the Soviet navy's traditional
coastal
defense
mission.
These
vessels
demonstrate  marked  improvements  in  submarine
quieting.  This  feature  reduces  their  noise  level
under
certain
operating
conditions,
while
improving   their   effectiveness   against   opposing
submarines.
Improvements of existing ASW aircraft evolved
into the production of the Helix A and the Helix B
ship-based  helicopter  and  the  long-range  Bear  F
Mod  4.  Similar  improvements  in  ships  designed
primarily for ASW have also been observed. Even
the  largest  modern  Soviet  combatants,  including
the  Kiev-class  carriers  and  the  Kirov-class  Cans,
carry   sensor   and   weapons   suites   (a   group   of
systems).    These    suites    include    powerful    low
frequency  sonorous;  ASW  rockets,  missiles,  and
torpedoes; and ASW helicopters.
The    Soviets    have    expended    considerable
resources   in   recent   years   on   developing   ASW
platforms    and    systems,    particularly    nuclear-
powered  attack  submarines.  However,  they  have
not  yet  resolved  the  problem  of  locating  Western
submarines in the open ocean.
All    things    considered,    the    Soviets    are    a
formidable  naval  power.  They  can  be  expected  to
increase   their   emphasis    on    making    general-
purpose naval forces more capable. They can also
be  expected  to  continue  challenging  the  West's
traditional dominance of the open oceans.
SOVIET NAVY PERSONNEL
Soviet   navy   personnel   occupy   a   respected
position within the Soviet society. Military service
in the Soviet Union is regarded as a special  form
of service to the state. It is rewarded by
134.4
Figure 1-5.-Soviet OSCAR-I submarine.
1-17