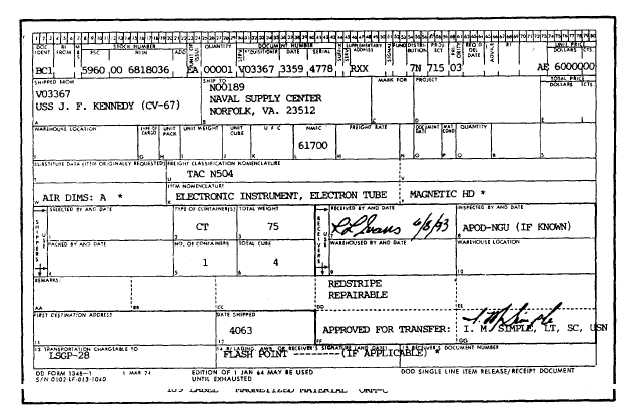 Procedures for Shipment Via the Defense
Transportation System
When the decision is made that an item must be
shipped  rather  than  mailed,  certain  procedures  must  be
followed in preparing transportation documentation.
Most   of   the   data   elements   needed   to   prepare
transportation  documentation  are  available  from  supply
documentation.  Extensive  information  on  DTS  shipping
paper work may be found in the  

Military  Standard
Transportation   and   Movement   Procedures
(MILSTAMP) Manual, DOD 4500.32R, but this manual
is not normally available to ships. The DD Form 1384
is normally used to ship material in the DTS. When the
DD Form 1384 is not available, ships can use a DD Form
1348-1 including essential transportation data. This
form must then be turned in to the fleet unit designated
to handle transshipment to its final destination. If you
want your shipment to bypass supply and it is correctly
documented (must have a DD Form 1384), it may be
directly  placed  into  transportation  by  obtaining  a
clearance  from  the  nearest  airlift  clearance  authority
(ACA). Even so, the DD Form 1348-1 or the DD Form
1149 is used as the primary source document. To easily
prepare  a  DD  Form  1384,  you  should  use  the  decision
table in figure 9-2 to cross-reference the information
shown in the card columns of a DD Form 1348-1 as
shown in figure 9-3. An example of a resulting DD Form
1384 is shown in figure 9-4.
HAZARDOUS MATERIAL
Hazardous material refers to any material (specified
by the Department of Transportation, Federal Aviation
Agency, United States Coast Guard, or other federal or
military  agency)  that  under  conditions  incident  to
transportation is liable to cause fires, create serious
damage   by   chemical   action,   or   create   a   serious
transportation  hazard.  It  includes  material  classified  as
explosive,   flammable,   corrosive,   combustible,
oxidizing,   poisonous,   compressed   gas,   toxic,   and
radioactive.
Certification for Hazardous Material
Federal   regulations   require   that   hazardous
shipments  be  certified  for  shipment  by  your  ship.  You
can have an SK certified by having him or her graduate
from an appropriate DOD hazardous shipment course.
Due to potential risk of legal liability to your ship, it is
recommended that you turn in hazardous material to an
ashore activity for shipment as soon as possible.
Figure 9-3.—Basic information required on a DD 1348-1 to complete a DD Form 1384 (TCMD).
9-5