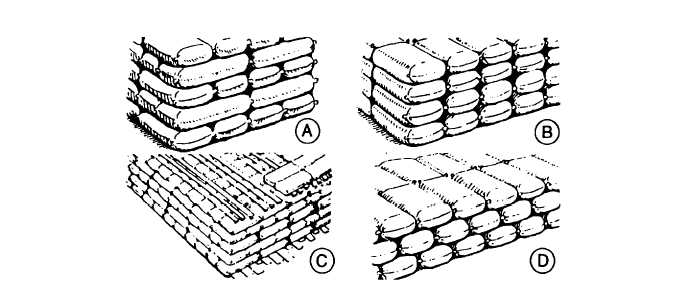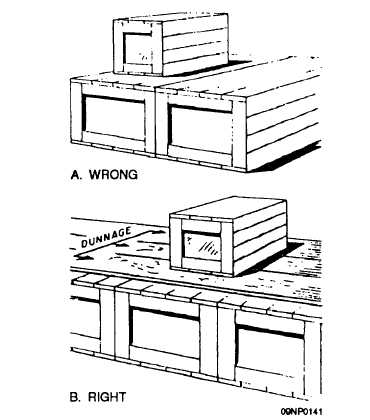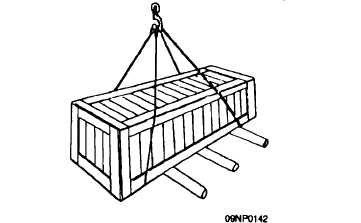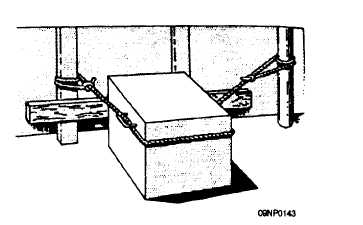 Figure  14-14.-Stacking  bagged  goods.
Figure 14-15.—Right and wrong ways to stack boxes.
Heavy containers should be landed on rollers  or
dunnage when using a crane or ship's booms to load and
when  it  is  impractical  to  use  materials  handling
equipment.  This  permits  safe  removal  of  the  slings.  If
rollers (such as lengths of pipe) are used, they provide
an  effective  means  of  moving  the  item  into  the  stowage
location in a hold or on deck. (See figure 14-16.) A
handtruck may then be used as a pry to remove the
rollers.
Small boxes, cases, and crates can be secured as
illustrated  in  figure  14-17.  Run  the  line  from  one
securing point around the box to a securing point on the
opposite side. If the line is light or the box heavy, run
Figure 14-16.-Landing a case on rollers.
Figure 14-17.-Proper way to secure small boxes.
14-20