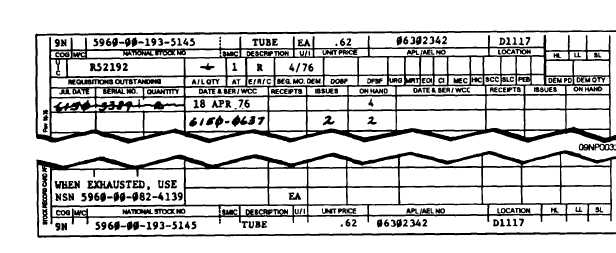 Figure 7-8. —Example of  a stock record for superseding NSN.
Figure 7-9—Example of closing our a superseded NSN stock record.
record  for  the  superseded  NSN  will  not  be  carried
in the requisition, stock points occasionally may furnish
forward to the new stock record for the superseding
a  substitute  item  in  lieu  of  the  requested  item.  Refer  to
NSN. This removes the need to remark material already
figure 7-10 data block "T" of DD Form 1348-1 for an
in  stock.  However,  both  stock  records  will  be  reviewed
example  of  a  stock  number  of  an  item  originally
when computing demand and/or frequency of demand,
requested.
and in determining replenishment quantities. When
(Distinction between a substitute NSN and a new
replenishment  is  required,  the  superseding  NSN  will  be
indicated  in  the  requisition.
or  superseding  NSN  is  determined  by  the  status  code
(BH or BG respectively) indicated in the supply status
When a requisitioned item is not readily available
card.)
from system stock and advice code 2B was not entered
record
7-13
When a substitute item is received and a stock
already exists for the same NSN as that of the