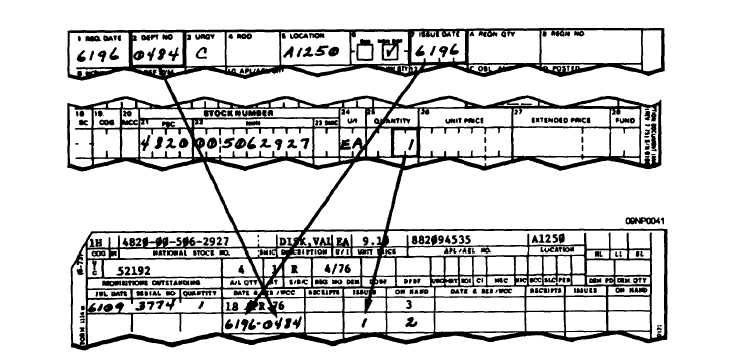 requisition. The different purposes for which NAVSUP
Form  1250-1  is  used,  and  the  distribution  in  each
situation, are prescribed in the NAVSUP P-485.
ISSUE
Assuming  that  the  action  needed  for  issue  as
specified  in  the  NAVSUP  P-485  have  been  performed
and  recorded  accurately,  the  issue  is  simple.  The
storeroom Storekeeper goes to the location shown on
the request, removes the material, turns it over to the
department   representative   in   exchange   for   the
representative's   signature   on   the   original   of   the
NAVSUP  Form  1250-1.
ISSUE OF PRE-EXPENDED BIN (PEB)
MATERIAL
Replenishment  of  PEB  material  in  organizational
maintenance  level  ships  is  the  responsibility  of  the
department head controlling the space in which the PEB
is located. In intermediate maintenance level ships,
replenishment  of  PEB  material  is  the  responsibility  of
the supply support center. The supply officer must make
sure that adequate backup stocks of PEB material are
maintained. Replenishment of PEB material will be
retie  by  use  of  NAVSUP  Form  1250-1  prepared  as
specified  in  the  NAVSUP  P-485.
POSTING ISSUES TO STOCK RECORDS
Issue transactions will be posted, in ink, to stock
records  daily.  Issues  of  selected  item  management
(SIM)  items  will  be  posted  first.  Issues  will  not  be
posted to the stock records before the actual issue of
material.
The material issue date and the department number
or the work center code if a department number is not
assigned (data block 7 and data block 2 or 14 of the issue
request)  will  be  posted  to  the  "Date  &  Ser./WCC
column of the stock record. The quantity (data block
25 of the issue request) will be posted to the "Issue"
column and the quantity in the "On hand column will
be reduced to reflect the new stock record balance. (For
an example see figure 8-3.)
NON-SIM INVENTORY VALIDATION OR
(AT ISSUE) DURING AN ISSUE
If  the  item  issued  is  a  non-SIM  item,  the  inventory
figure in data block 11 of the NAVSUP Form 1250-1
will  be  compared  with  the  on-hand  balance  indicated  in
the stock record after the issue has been posted. If the
item  was  issued  from  more  than  one  location,  the
inventory figures in data block 29 will be compared
with the quantity figures in the "Location" field of the
stock  record.  After  such  figures  have  been  reduced  by
Figure 8-3.—Example of the posting of an issue to the stock record card.
8-3