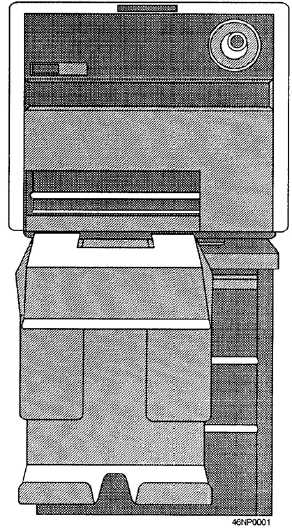 Figure 3-1.-Photocopier.
will be required to know and do in the event of a
malfunction will be outlined by a representative of
the manufacturer.
CONTROL OF FAST-COPY MACHINES
A   problem   which   requires   the   attention   of
everyone  in  your  office  is  the  control  and  use  of
fast-copy machines. Increased availability of these
machines    has    created    security    problems    and
increased operating costs. These machines permit
quick, easy reproduction of uncontrolled classified
material.
Latent
impressions
are
left
on
reproduction   equipment.   This   creates   excessive
waste material that can contribute to compromise
of classified information. Some misuses and abuses
that contribute to high operating cost are:
·
Using a copier instead of making carbons
·
Copying blank forms or publications
·
Making more copies than are needed
·
Using a copier for items that should have been
copied by the print shop
·
Controls   should   be   established   to   prevent
unnecessary costs and prevent security abuses
CALCULATORS
Calculators add, subtract, multiply, and divide.
Most  models  in  use  by  the  Navy  are  capable  of
performing   a   variety   of   complex   mathematical
operations but do not produce a paper tape of the
results.    A    substantial    amount    of    training    is
required  to  operate  a  calculator  with  proficiency.
Simple   multiplication   and   division   that   an   SK
would be required to perform can be learned in a
few minutes.
MICROFICHE
Many  publications  used  by  the  Navy  supply
system are in the form of microfiche. They require
the use of a microfiche reader. These  readers  are
easy to use and do not require specialized training.
Figure 3-2 shows typical fiche data fields.
PUBLICATIONS
The  publications  you  will  use  can  be  divided
into     two
types:
procedural
and
technical.
Operations    are    governed    by    law.    Procedural
manuals   have   been   developed   to   assist   Navy
personnel    in    performing    their    jobs.    Efficient
procedures  have  been  developed  that  save  time
and
limit
mistakes.
They
also
make
communications  between  commands  

clearer   

and
easier to understand. When you transfer from one
ship to another, this uniformity makes it easier to
transition into the new assignment.
Technical publications are necessary because of
the  wide  range  of  material  required  to  keep  the
Navy
operating.
You
will
use
technical
publications primarily to identify material.
The  publications  needed  by  ships  and  stations
vary, but those described below  are used  by most
supply departments afloat.
NAVY REGULATIONS
Navy
Regulations
defines
the
duties,
responsibilities, authority, and relationships of the
3-3