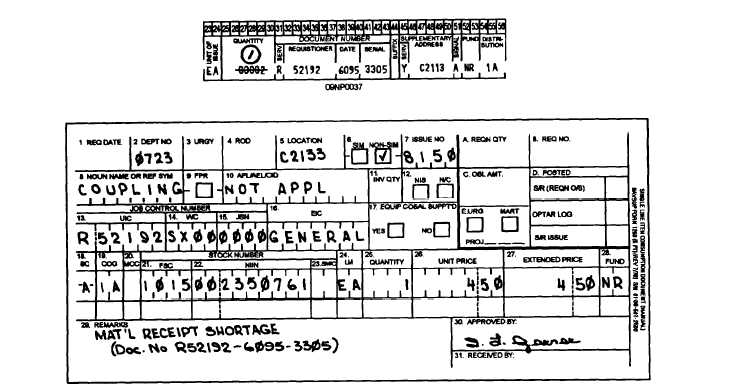 Storage  Location
New  Location.
receipt   document
Figure  7-14.—Example  of  a  report  of  receipt  shortage  as  consumption.
When the recxeipted copy of the
received   from   the   storeroom
Storekeeper indicates that material was stored in a
location  different  from  that  indicated  in  the  stock
record, the location shown in the stock record will be
lined through and the new location will be entered. For
an example, see figure 7-150
Additional Locations. When the receipted copy of
the  receipt  document  received  from  the  storeroom
Storekeeper  indicates  that  an  item  is  stored  in  multiple
locations,  the  additional  location(s)  will  be  entered  in
the stock record.
Disposition of Posted Receipt Documents
After a receipt has been posted to the stock record,
the  OPTAR  records  Storekeeper  will  enter  the  material
receipt   date   in   the   Requisition/OPTAR   Log   in
accordance   with   NAVSO   P-3013.   The   receipt
document  then  will  be  forwarded  to  the  requisitioning
Storekeeper  for  attachment  to  the  hardback  copy  of  the
related  requisition  from  the  material  outstanding  file.
Figure 7-15.—Example of posting location changes to stock records.
7-17