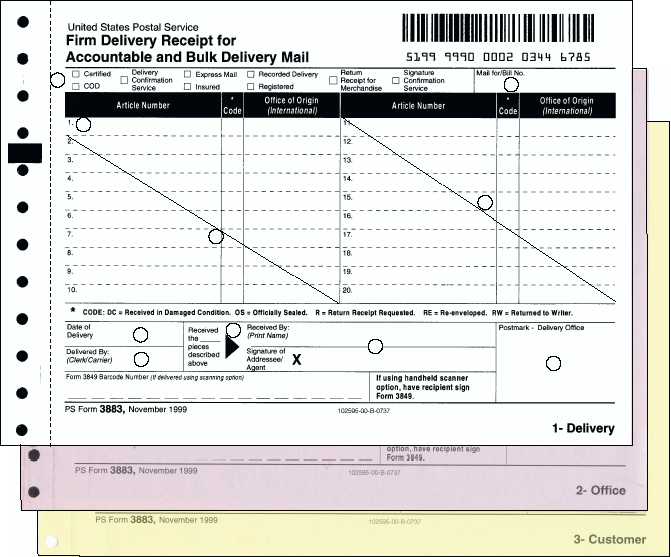 and mail orderlies (see figure 7-19).  Prepare this form
as follows:
Step 1:  Check the block of the type of accountable mail
to be delivered.
Step 2:  Enter the name of the unit of address or activity
and the bill number. Bill numbers should be in sequence
starting with the number 1 each calendar year.
Step 3:  Enter the registered numbers of the articles to be
delivered  (maximum  of  20  per  PS  Form  3883),
complete the code block by following the instructions in
the * block below the 20 line entry spaces, and enter the
office of origin.
Step 4: Close the bill by drawing a diagonal line through
the unused portions of the bill.
Step 5:  Enter the date of delivery.
Step 6:  Delivery clerk signs name in this space.
Step 7:  Postmark with the APDS all copies of the set.
Step 8:  Mail clerk or mail orderly enters total number of
articles received.
Step  9:   Mail  clerk  or  mail  orderly  prints  then  signs
name.
Before making any entries the receiving mail clerk
or mail orderly must show a validated DD Form 285
(Appointment  of  Military  Postal  Clerk,  Unit  Mail
Clerk, or Mail Orderly).  The mail clerk or mail orderly
must verify that the registry numbers of the articles are
properly listed before signing PS Form 3883.  Once the
7-19
PCf0719
8
1
3
4
4
2
6
5
7
9
Figure 7-19.—An example of a PS Form 3883.