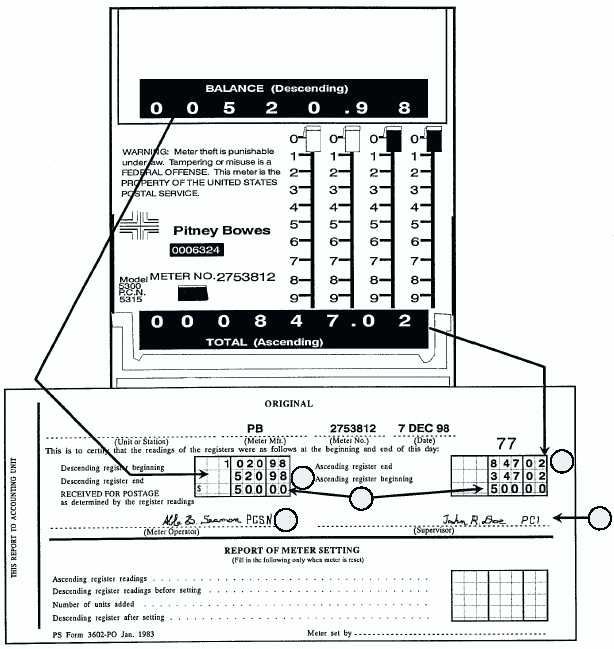 figures for accuracy.  If accurate, then you must enter
the following information next to your initials:
·   

Printed name
·   

Rank
·   

Signature
The  meter  custodian  will  do  the  same  on  the
"SUPERVISOR" line (see figure 8-17).   At that time
the meter custodian will return the triplicate copy of PS
Form 3602-PO to you, along with a PS Form 1096.
Read the following to learn what information must
be  entered  on  PS  Form  3602-PO  to  complete  it  (see
figure 8-18):
Block  1:   DESCENDING  REGISTER  END.   Obtain
this  number  from  the  meter  head's  "BALANCE
(Descending)"  register  reading.  To  avoid  mistakes  on
PS Form 3602-PO, write the numbers from right to left
and exclude preceding zeroes.  Do NOT skip any box or
write decimal periods.
Block 2:  ASCENDING REGISTER END.  Obtain this
number from the meter head's "TOTAL (Ascending)"
8-24
PCf0818
ABS ABLE B. SEAMAN
JRD JOHN R. DOE
FPO AE 09561-0001
2
5
3
1
4
Figure 8-18.—Completion of PS Form 3602-PO at the close of the business day.