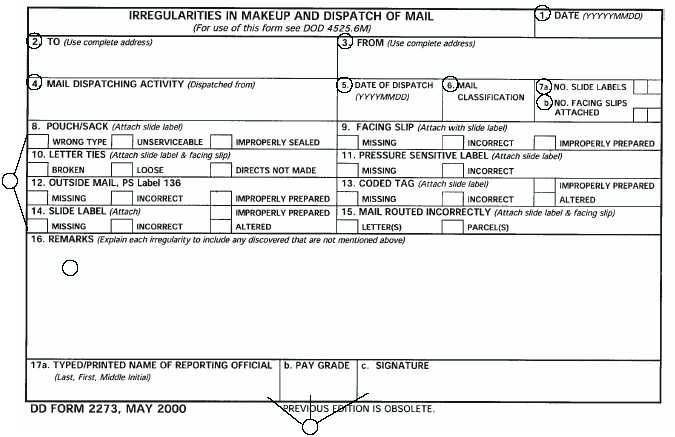 COMMANDER
JOINT MILITARY POSTAL ACTIVITY - PACIFIC
INTERNATIONAL SERVICE CENTER
2650 BAYSHORE BLVD
DALY CITY CA 94013-0026
Block 3.  Enter the address of the MPO preparing the
report.
Block 4.   Enter the postal activity that dispatched the
mail (bottom line of slide label). For mail received from
military  post  offices,  this  will  be  the  APO  or  FPO
number.
Block 5.   Enter the date the mail was dispatched (see
reverse side of slide label).
Block 6.  Enter the class or type of mail involved.  For
example, First-Class (or FCM), Priority, Standard mail,
SAM, PAL, etc.
Block 7.  Enter the number of slide labels or facing slips
attached to the report.
Block  8.
Indicate  the  irregularity  by  checking  the
appropriate box.  More than one box may be checked.
For example, if a pouch or sack was the wrong type and
unserviceable, then you'll mark both boxes.
Block 9.  Write a concise explanation of the irregularity
to  include  any  irregularity  discovered  which  is  not
mentioned on the form.
Block 10.  Enter name (Last, First, MI), paygrade, and
sign.
Q9-10.   What PS form should you use to obtain the
signature  of  an  addressee  for  delivery  of  a
certified letter?
Q9-11.   While  sorting  incoming  letter  mail,  what
should  you  do  when  you  discover  a  missent
letter?
Q9-12.   When  a  letter  is  received  at  your  MPO
addressed  to  an  individual  or  activity  not
authorized  MPO  privileges,  what  necessary
action must occur?
Q9-13.   Explain the procedures to follow when loose
cash is found during the sorting of incoming
or outgoing mail.
9-12
PCf0905
9
8
10
Figure 9-5.—An example of a DD Form 2273, Irregularities in Make-up and Dispatch of Mail.