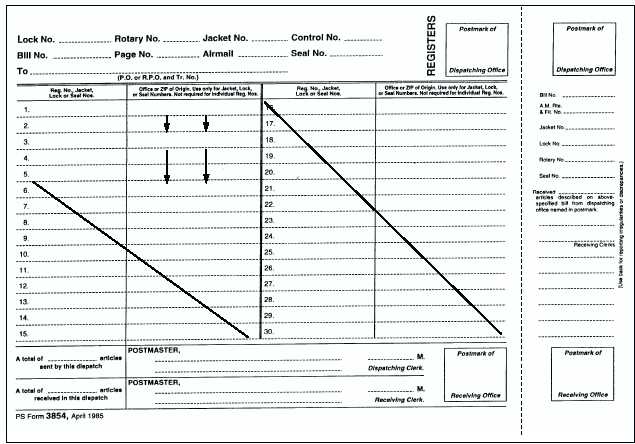 ·   

The original and duplicate bill should be given to
the responsible Postal Clerk for delivery to the
receiving postal activity.
·   

The  triplicate  copy  should  be  retained  in  the
MPO files.
The registry clerk of the receiving postal activity
postmarks  and  receipts  for  the  mail  by  signing  the
original and duplicate bills.  The original bill should be
retained by the receiving activity and the duplicate bill
should be given as a receipt to the delivery clerk.  The
delivery  clerk  should  then  file  the  duplicate  with  the
registry  balance  sheet  that  was  prepared  for  that
day/tour of dispatch. The triplicate copy is destroyed.
Q7-16.   What  is  the  first  step  in  the  processing  of
outgoing registered mail?
Q7-17.   What  size  hole,  if  any,  would  render  a  pouch
unusable for the dispatch of registered mail?
Q7-18.   

What  PS  Form  is  prepared  and  enclosed  in
each registered mail dispatch?
Q7-19.   Normally, registered articles dispatched from
a Navy post office are enclosed in a pouch and
secured with a numbered seal.  (True/False)
Q7-20.   PS   Tag   135-E   should   be   attached   to   each
outgoing   pouch   of   registered   mail   and   PS
Label 136-E should be affixed to each outside
piece of registered mail.  (True/False)
Q7-21.   A   registered   pouch   dispatched   on   a   U.S.
commercial  cargo  air  carrier  should  always
have what letter preceding the seal number of
a registered sealed pouch on the outside bill of
PS Form 3854?
Now turn to appendix 1 to check you answers.
PROCESSING INCOMING
REGISTERED MAIL
Learning   Objective:
Identify   the
procedures   involved   for   handling   and
delivering   incoming   registered   mail   and
processing undeliverable registered mail.
The handling of incoming registered mail requires
the  same  processing  and  care  upon  receipt,  delivery,
7-13
PCf0715
88
88
DIS  NORFOLK  VA  23511
S/6819324
FPO  AE   09645
S/6819325
S/7268520
FPO   AE   09644
O/RR 001-411-000US
O/RR 001-411-000US
WITNESS SIGNATURE
DISPATCHING CLERK SIGNATURE
CURRENT
TIME
1X
Figure 7-15.—An example of a PS Form 3854 used as an outside bill.