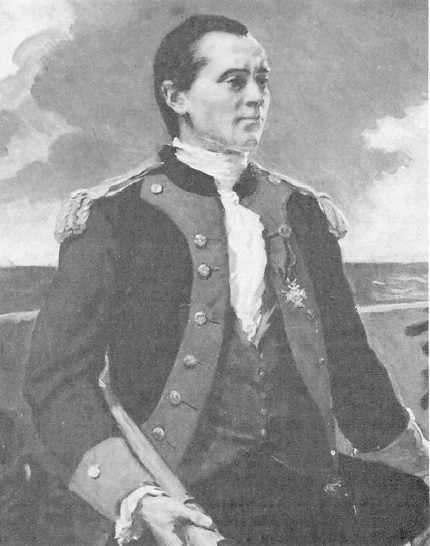 subsurface craft before finally completing it  in  1775.
Bushnell,  a  Yale  medical  student,  hoped  the  craft
would  help  drive  the  British  away  from  American
shores for good.
Bushnell  described  this  first  warfare  submarine
(fig.    2-l),    named    the   

Turtle,    

as    having    "some
resemblance to two upper tortoise shells of equal size,
joined together. . . . " It was 7.5 feet deep and, under
ideal conditions, had a maximum speed of 3 knots. A
single operator could stay submerged in the craft for
30 minutes.
The  

Turtle  

was  armed  with  an  oak  casing  filled
with  150  pounds  of  explosives.  This  charge  could  be
attached  to  the  bottom  of  an  enemy  ship  where  it
would remain until detonated by a simple clockwork
mechanism.
After  completing  the  submarine,  Bushnell  took  it
for several  dives  to  prove  its  seaworthiness.  Finally,
on 6 September 1776, he was ready to use it against
the British in New York harbor. Sergeant Ezra Lee, a
volunteer from the  Connecticut militia, maneuvered
the  

Turtle  

by  using  hand-operated  screw  propellers.
The plan was for Sergeant Lee to use screws to attach
a time-fuse charge of gunpowder to a ship's hull. The
mission   was   aborted   when   the   auger   could   not
penetrate the copper sheathing on the hull of Admiral
Howe's flagship, the HMS

Eagle.
Bushnell  made  a  couple  of  more  attempts  to  use
the

Turtle

against the British in the Delaware River.
These  times  he  tried  attaching  mines  to  the  

Turtle
and  floating  them  against  the  enemy  ships.  These
attempts  failed,   and   the   British   finally   sunk   the
submarine  in  New  York  harbor  (the  first  recorded
instance of an antisubmarine attack).
JOHN PAUL JONES
Emerging  from  the  revolutionary  war  was  one  of
the  Navy's  greatest  heroes   and   tradition   makers,
John Paul Jones (fig. 2-2). Jones
134.4
Figure 2-2.-John Paul Jones, father of our highest naval traditions, represents the seaman,
leader, officer, and gentleman at their best.
2-3