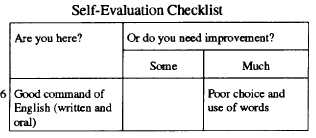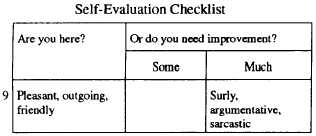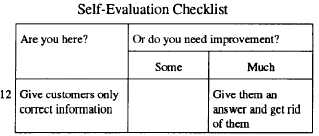 They strike out again. They demonstrated neither
equality  nor  fairness  in  dealing  with  customers.
Excessive  use  of  profanity  is  generally  considered
a vocabulary weakness. The use of profanity by Brush
and Christmas did not improve communications; as in
most cases, it impaired it. They might have felt that the
use  of  profanity  strengthened  or  emphasized  the
thoughts or ideas they were expressing, or profanity may
have become a speech habit that they used without being
aware of it.
The information given to SN Boate may have been
correct, but they made no effort to convince him. They
only intimidated him into accepting it. PO Seaman will
need quite a bit of information before he completes his
first  transfer  with  dependents  and  personal  effects,  but
no doubt he will seek it elsewhere.
PO Door was shirking his responsibility for carrying
out his assignments, and LPO Brush was lax in carrying
out  his  supervisory  responsibility  of  following  up  on  the
work  assignments  he  had  made.
An interesting conversation during a personal call
is  not  sufficient  reason  to  delay  answering  the  phone
until after the sixth ring. PO Seaman had made at least
two trips to the personnel office and would have to make
a third to find out what his detachment date would be.
As contact point representatives, they have very
little in their favor on this item. SN Boate would rate
them very low, and PO Seaman probably would say that
they  are  pretty  good  at  making  excuses.
Their  only  interest  in  SN  Boate  was  ridding
themselves  of  him  and  his  problem.  Both  displayed  a
lack of interest and concern for his desire to choose a
rating. PO Door did not consider it necessary to prepare
PO Seaman's orders immediately—he felt he had plenty
of time. He failed to recognize that the Navy member
had  responsibilities  outside  of  the  Navy.  Advance
planning  is  required  when  a  service  member  has
dependents to be relocated—dates are all-important to
this planning.
2-8