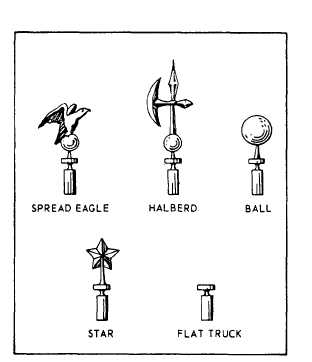 bow the command officer's personal flag or command
pennant or, if not entitled to either, a commission
pennant.
An officer entitled to the display of a personal
flag or command pennant may display a miniature of
such flag or pennant in the vicinity of the coxwain's
station  when  embarked  on  other  than  official  occasions
in a boat of the naval service.
BOW  AND  FLAGSTAFF  INSIGNIA
A  boat  regularly  assigned  to  an  officer  for  personal
use carries insignia on each bow as follows:
For a flag or general officer, the stars as arranged
in his or her flag
For a unit commander not a flag officer, a replica
of  the  command  pennant
For a commanding officer, or a chief of staff not
a flag officer, an arrow
Staffs for the ensign, and for the personal flag or
pennant in a boat assigned to the personal use of a flag
or general officer, unit commander, chief of staff, or
commanding officer, or in which a civil official is
embarked are fitted at the peak with devices (shown in
fig. 5-11) as follows:
A spread eagle for an official or officer whose
official salute is 19 or more guns. The head of the spread
eagle must face forward.
A halberd for a flag or general officer whose
official salute is less than 19 guns or for a civil official
whose official salute is 11 or more guns but less than
19 guns. The cutting edge of the halberd must face
forward.
A ball for an officer of the grade, or relative
grade, of captain in the Navy or for a career minister, a
counselor or first secretary of an embassy or legation,
of a consul.
A star for an officer of the grade, or relative grade,
of commander in the Navy. The points of the star must
face fore and aft.
A flat truck for an officer below the grade, or
relative grade, of commander in the Navy or for a civil
official not listed above, and for whom honors are
prescribed for an official visit.
Figure  5-11.–Flagstaff  insignia.
BOAT HAILS
LEARNING  OBJECTIVES:  Explain  the
procedures for challenging an approaching
small boat. List and identify boat hails and
their replies.
When a boat approaches a ship, the officer of the
deck  must  know  the  rank  of  the  senior  officer
embarked   so   that   a   proper   reception   with   the
appropriate ceremonies may be extended. During
daylight   hours,   the   officer   of   the   deck   (OOD)
questions the boat coxswain to ascertain the rank of
the senior officer by raising an arm straight up, fist
clenched.  The  coxswain  replies  by  showing  fingers
equal to the number of side boys the officer rates.
Fleet admirals, admirals, and vice admirals rate eight
side boys. Rear Admirals, upper and lower, rate six
side  boys.  Captains  and  commanders  rate  four  side
boys, and all other commissioned officers rate two.
Officers of other services rate the same number of side
boys  as  their  equivalents  in  rank.  If  there  are  no
passengers  in  the  boat  who  rate  side  boys,  the
coxswain gives the OOD a wave off.
5-13