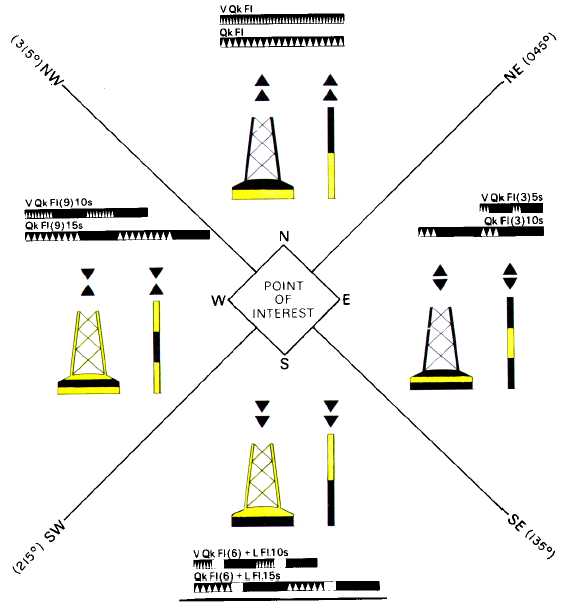 C69.222
Figure 5-29.–IALA Maritime Buoyage System cardinal marks.
flashing followed by a long flash every 15 seconds (Qk
[6] + LF1 15s)
West–Very quick flashing every 10 seconds (Vqk
[9] 10s) or quick flashing every 15 seconds (Qk [9]
15s)
As a memory aid, associate the number of flashes
in each group with a clock face (3 o'clock–east, 6
o'clock–south, and 9 o'clock–west).
The  long  flash  immediately  following  the
group  of  flashes  of  a  south  cardinal  mark  is  to
ensure that its six flashes cannot be mistaken for
three  or  nine.
Quick flashing lights flash at the rate of either 60
or 50 flashes per minute. Very quick flashing lights
flash  at  the  rate  of  either  120  or  100  flashes  per
minute. It is necessary to have a choice of quick
flashing  or  very  quick  flashing  lights  to  avoid
confusion. Two north buoys that are placed near
enough to each other to be mistaken is one example
where the quick flashing and very quick flashing
lights would be needed.
5-33