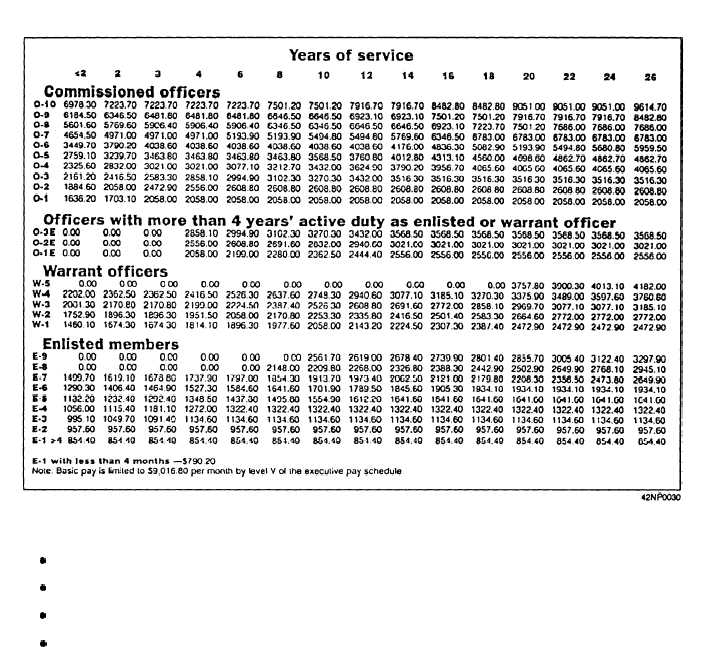 Figure  8-5.—Pay  chart.
l  Toxic  fuels  (or  propellants)  duty
. Toxic pesticides duty
l Dangerous viruses (or bacteria) lab duty
l  Chemical  munitions  duty
ALLOWANCES
As a PN, you need to familiarize yourself with the
different allowances. This will help you and the people
you counsel.
There is always the possibility some
members  will  not  be  aware  of  their  entitlements.
Therefore, you, the person who maintains the enlisted
service records and the person who should know as
much as possible about these entitlements, must be well
informed.
The following paragraphs will contain important
information on entitlements. The references you will
need  for  counseling  individuals  concerning  these
allowances are provided at the end of each topic. It is
your  responsibility  to  review  these  references  for  the
most current information. This is the only way you can
provide the most up-to-date information and not mislead
members  concerning  their  entitlements.
For starting and processing these allowances, you
should refer to the

DFAS Pay/Personnel Procedures
Manual

(Navy), NAVSO P-3050.2;

Source Data System
Procedures  Manual  

(SDSPROMAN),  NAVSO  P-3069,
volumes I and II; and U.S.

Navy Travel Instructions
(NTI), NAVSO P- 1459. The following paragraphs will
provide a brief discussion of some of these allowances.
Basic Allowance for Quarters
BAQ   is   payable   to   members   on   active   duty
according to the paygrade in which they are serving or
appointed for basic pay purposes as set forth in the
DODFMR,  volume  7,  part  A.  All  members  of  the
uniformed services entitled to receive basic pay are
entitled to receive a BAQ on behalf of their eligible
dependents.
8-6