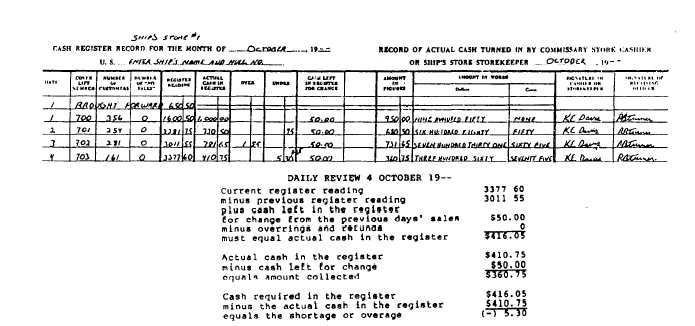 Figure 3-7.—Daily review of the Cash Register Record, NAVSUP Form 469.
ACCOUNTING  FOR  MONEY  IN  THE
DOLLAR  BILL  CHANGER
The  ship's  store  officer  or  cash  collection  agent
is  responsible  for  the  dollar  bill  changer.  The
disbursing officer entrusts a change fund not to
exceed $400 on ships with less than 700 personnel
to the person making collections. The disbursing
officer may entrust a change fund up to $800 on
ships  with  more  than  700  personnel.
A  separate  Cash  Register  Record,  NAVSUP
Form 469, is used for dollar bill changers to record
transactions and validate accuracy of the change
fund each time the machine is opened and refilled.
The person responsible for the dollar bill changer
has custody of the NAVSUP Form 469. Enter the
dollar bills collected from the machine in the Cash
in   Register   column.    Write   any   overages   or
shortages  in  the  Over  or  Under  columns  and  write
coins placed into the machine after collection in
the  Register  for  Change  column.  Any  shortages
that exist in the change fund will be handled as
discussed earlier.
DEPOSITS  WITH  THE
DISBURSING  OFFICER
Cash  received  from  sales  is  deposited  daily
with the disbursing officer. In the absence of the
disbursing  officer,  deputy,  or  agent  cashier,  all
cash  on  hand  with  the  exception  of  money  left
3-15
overnight  in  the  cash  register  is  kept  in  a  safe
under  the  custody  of  the  ship's  store  officer  or
cash   collection   agent,   The   signature   of   the
disbursing  officer,  deputy,  or  agent  cashier,  is
obtained  on  the  NAVSUP  Form  470  for  all
deposits. The person making the deposits retains
the  NAVSUP  Form  470.  A  NAVSUP  Form  470
does not have to be used if the ship's store officer
is  making  collections  and  is  also  the  disbursing
officer.  Total  deposits  made  during  the  month
must equal the total receipts from sales. The ship's
store officer must make sure all cash from sales,
including change funds, is collected at the end of
the  month  and  that  the  total  amount  of  cash
collected  and  turned  over  to  the  disbursing  officer
equals  the  amount  entered  in  the  ROM.
REVIEW  BY  THE  SHIP'S
STORE OFFICER
As  the  collection  agent,  you  will  submit  the
following records to the ship's store officer when
making collections on a daily basis or a minimum
of  twice  a  week:
The   Cash   Register   Record,   NAVSUP
Form  469,  for  each  sales  outlet
The  Cash  Receipt  Book,  NAVSUP  Form
470,  for  each  sales  outlet
The  Cash  Receipt  Book,  NAVSUP  Form
470, covering deposits with the disbursing
officer