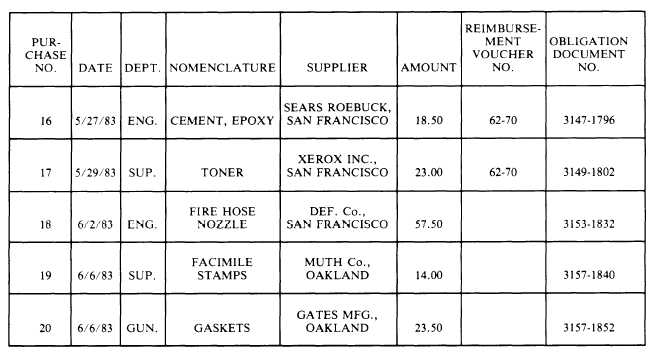 Figure 5-18.—Imprest fund purchase log.
signature.  When  the  contractor  signs  the  form,
document  for  distribution,  you  should  consider
it creates a contract that is now binding on both
parties.  The  contractor  is  now  legally  bound  to
perform  by  the  terms  and  conditions  of  the
contract.
When  using  the  bilateral  purchase  orders  they
must  be  made  under  the  following  conditions:
A  government-furnished  property  clause
is  included  in  the  order.
The  purchase  order  is  classified.
The  order
The  order
DISTRIBUTION
ORDERS
is  for  mortuary  services.
is  for  foreign  military  sales.
OF  PURCHASE
You should develop and maintain a manage-
ment  system  for  controlling  the  distribution  of
purchase   orders.   You   should   take   action   to
identify, prioritize, and process these documents
to make sure the disbursing office designated to
make payment receives the payment copy of the
purchase  document  on  or  before  the  date  a
contractor  invoice  is  received.  To  prioritize  the
the  following:
.  Urgency  of  the  requirement
.  Payment  terms  of  the  order
.   Oral/confirming   orders
.  Fast  payment  provisions
.  Delivery  requirements
.  Any  other  factor  that  may  prevent  timely
processing   of   the   contractors'   invoices   for
payment
When   the   purchase   documents   have   been
confirmed, the issuing activity should distribute
the   purchase   orders   within   10   days   after
confirmation. As an afloat command you should
receive  the  original  with  the  necessary  copies.  You
will retain the original until the material or services
have  been  provided.  You  will  then  sign  the
original and forward it along with the invoice to
the disbursing office for payment. A copy of the
original purchase should have been forwarded to
the  contractor  and  also  to  the  disbursing  office
from  the  issuing  activity.
5-31