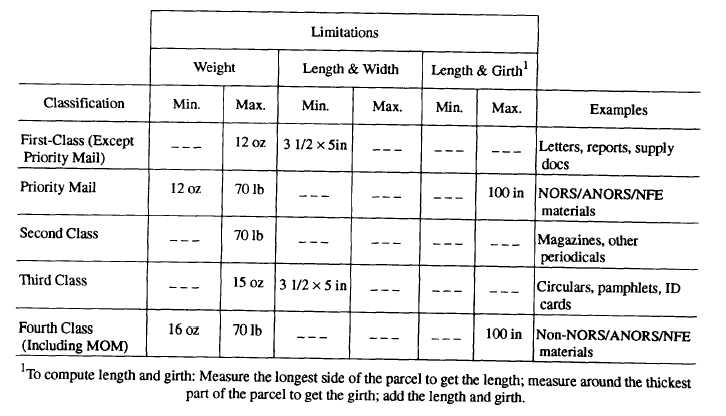 drugs, small arms, and classified matter are discussed
later in this chapter. In addition, the different types of
special mail services are also described.
Figure  9-1  indicates  the  weight  and  size  limitations
for mailable matter, as specified in the DOD  

Postal
Manual,

volume 1.
EXTERNAL  MARKINGS
The Postage and Fees Paid Department of the Navy
DOD-316 marking has been

deleted

due to the metering
of all government mail. It should not be imprinted on the
upper right corner of envelopes, labels, tags, or wrappers
used to transmit official mailable matter including that
sent by any of the special services described under the
upcoming Navy Freight heading. Official Business and
Penalty  for  Private  Use,  $300,  should  be  imprinted  on
the upper left corner, below the sender's return address.
Markings indicating the mail classification and type of
special  service,  when  appropriate,  will  be  stamped  on
the address side of the parcel. Make sure the city, state,
and ZIP Code are on the last line of the address and that
no other information appears below it.
For shipment within your local area, apply LOCAL
FORCES in bold letters on the lower left corner of the
envelopes or shipping labels. Be sure the consignee's
address  is  entered  according  to  the  NAVSUP  P-485,  the
unit's   routing   identifiers,   the   

Standard   Navy
Distribution List  

(SNDL), NAVSUPINST 4421.20, and
other  appropriate  directives  for  repairable.
SMALL ARMS
Parcels containing unloaded small arms for official
use are mailable under conditions specified by postal
regulations. Such parcels, when properly packaged and
addressed  for  delivery  to  military  activities  or
individuals for use in connection with their official duty,
are  acceptable  for  mailing  when  offered  by  an
authorized  agent  of  the  federal  government.  Full
information  may  be  obtained  from  postal  authorities.
Packages containing small arms, whether mailed or
shipped, will bear no external markings indicating the
nature of their contents. Small arms forwarded by the
U.S. Postal Service will be sent as registered mail, and
the registry slip furnished the sender will be attached to
the ship's retained original of the DD Form 1348-1.
When a receipt copy of the DD Form 1348-1 is returned
from  the  consignee,  it  also  will  be  filed  in  the
expenditure  file  with  the  retained  original.
Figure 9-1.—Postal service limitations.
9-2