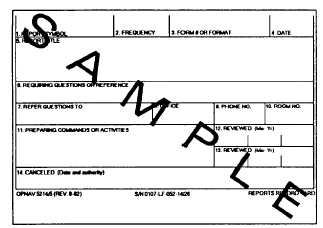 digits, 93, indicate the calendar year the report was
established and the next two digits, 36, reflect the next
consecutive number for one-time reports controlled for
that year. The figure 9336 in the example indicates that
this is the 36th one-time report assigned in calendar year
1993.
It is important to note that, although similar in
nature, report control symbols and forms identification
codes  are  separate  entities.  Even  though  the  originator
and subject identification code of both maybe the same,
the consecutive number in each may not coincide. The
same holds true for the relationship between the report
and its requiring directive.
report should be filed in a report case file. Every folder
should contain the following documents
A  copy  of  completed  Report  Analysis  Data,
OPNAV Form 5214/10 (figs. 6-2A and 6-2B
A copy of the report form, format, or a copy of
the  report
A copy of the document requiring the report
Related papers, such as source records, analyses,
surveys, and memos, pertaining to the report
Folders within the case file should be arranged
chronologically  by  report  control  symbol.
INVENTORY OF REPORTS
FOLLOW-UP  PROCEDURES
An accurate and current inventory of recurring
reports  is  essential  for  effective  operation  and  is
maintained by the reports control manager. A case folder
must be maintained on all reports for which your activity
has cognizance. The Reports Record Card, OPNAV
5214/5 (fig. 6-1), may be used to establish a manual
inventory  system  or  an  automated  management  data
fields   system   may   be   obtained   from   the
COMNAVDAC.
A close working relationship with the directives
control  point,  forms  manager,  mail  room,  publications
review office, and other points or individuals within the
command who may be aware of new or revised reports
requirements  will  help  greatly  in  your  efforts.
ESTABLISHMENT AND
MAINTENANCE  OF  RECORDS
After  all  recurring  reports  have  been  inventoried
and classified by a report symbol, one folder for each
Figure 6-1.-Reports Record Card, OPNAV 5214/5.
Established  reports  required  by  the  command  must
be  given  follow-up  review  to  determine  whether  they
continue to be needed and, if so, whether they continue
to meet all the requirements in the most effective reamer
in light of changing needs and situations, relationship to
other  reports,  possible  consolidations,  and  new
developments  in  reporting  devices  and  techniques.
A report must be reviewed before its expiration to
determine   if   it   continues   to   meet   requirements
efficiently. This review is done by the report originator
60  days  before  the  third  anniversary  of  the
administrative  issuance  requiring  the  report  to  include
complete  rejustification  of  the  requirement.  Reports  not
approved  for  extension  are  automatically  canceled  on
the  third  anniversary  date  and  are  omitted  from  any
subsequent  effective  reports  listing.
Possibly  the  most  effective  way  to  provide  an
annual  review  of  every  report  required  by  your
command is to combine the reviews with the annual
review of command directives. Since each required
report has a command directive as its basis, a complete
review of that directive 3 months before the anniversary
month of its issue date would provide the opportunity
for an in-depth look at any report listed therein. (This is
also an excellent time to accomplish a review of the local
forms  used  for  these  reports.  See  chapter  5.)
In accomplishing this review, a copy of the report
form and a blank OPNAV Form 5214/10 covering the
report would be provided to the reviewing office along
with the applicable directive. A decision to modify,
cancel,  or  continue  the  existing  directive  would,
likewise, contain a similar decision concerning any
report or form required by the directive.
6-3