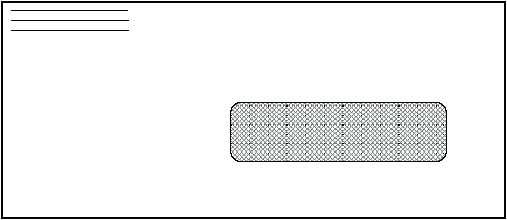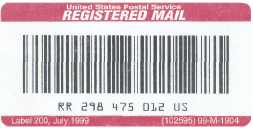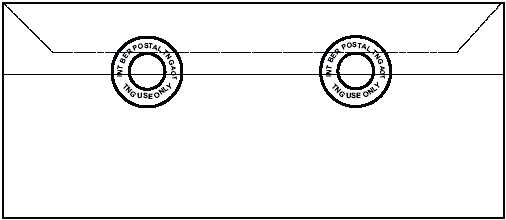 envelope  may  be  used  for  all  registered  mail  if  the
panel is a part of the envelope.   Figure 7-4 shows a
window envelope that is acceptable for registration.
REGISTRATION NUMBERS
Once an article is accepted at a military or civilian
post office, it becomes an accountable item.  That is,
some person is always accountable for that item as long
as it is in the postal system.  To account for registered
mail a number is assigned to each piece. All registered
mail  must  be  numbered  with  a  preprinted,
self-adhesive  label.    The  registered  mail  labels  are
designated as PS Label 200.  This label can be ordered
from the USPS material distribution center at Topeka,
KS.   The labels are about 1 1/2 inches high by 3 1/4
inches long.  The number series begins with the letters
RR, followed by nine number digits then ends with US.
The letter and number digits are in an OCR readable
print (see figure 7-5).
COMPUTING POSTAGE AND FEES
Compute the postage, fees, and other charges as
soon  as  you  have  determined  that  the  article  is
acceptable  for  mailing  and  after  the  mailer  has
declared the value.  Weigh the article first to determine
the First-Class or Priority Mail rate of postage before
computing the fees.   Then refer to Module R of the
DMM, and compute the registry fee according to the
declared value.
7-3
PCf0703
DATE
DATE
Figure 7-3.—A self-sealing envelope sealed with paper tape.
PCf0704
Figure 7-4.—A sample of a window envelope.
PCf0705
Figure 7-5.—An example of a USPS Label 200.