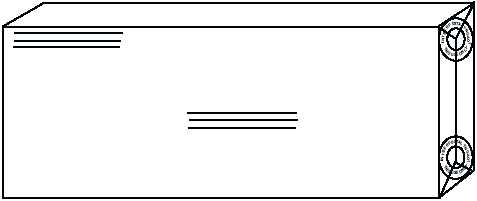 domestic  registered  mail,  but  they  may  be  used  for
international registered mail.
Sealing
All sides of a parcel must be completely sealed (see
figure 7-2).  One of the main purposes for registering
mail  is  to  provide  security  against  unauthorized
openings.  Where flaps are not completely sealed, tape
must be used to ensure that no free edge is exposed.
Such  tape  must  be  of  a  type  that  can  absorb  an  ink
impression, such as paper tape or cloth tape. Clear tape
(Scotch   tape)   and   masking   tape   ARE   NOT
ACCEPTABLE.
The  mailer  must  securely  seal  envelopes.
Self-sealing  envelopes  are  not  acceptable  as
registered  mail  unless  sealed  with  paper  tape  (see
figure 7-3).   Envelopes of strong construction may
be   accepted   for   mailing   as   long   as   they   are
completely sealed.  Envelopes sold by the USPS are
ideally suited for registration.  If tape is used to seal
the flaps of letter-size envelopes, the tape must not
be placed over the intersections of the flaps.  A space
on  each  side  of  the  intersecting  flaps  must  be  left
open for postmarks.
Packaging
All  articles  presented  for  registration  must  be
packaged following the procedures in chapter 3 of this
training manual and Module C of the DMM.   As the
accepting clerk, you may refuse to accept an article if
you determine that it is not packaged in a manner that
will assure safe transmission in the mails.  The mailer
must also tell you whether or not the item is fragile.
When it is of a fragile nature, the mailer must describe
the interior packaging.
WINDOW ENVELOPES
Window envelopes that do not have a panel over
the opening cannot be used for registered mail.   If a
transparent panel is glued to the envelope, the envelope
may  only  contain  matter  of  no  intrinsic  value.   The
7-2
KIND
OF
MAIL
MATTER
VALUE
TO
BE
DECLARED
Negotiable  Instruments-
Instruments   payable   to
bearer,  including  stock
certificates  endorsed  in
blank.
Market  value.  (All  values
are based on the value at the
time of mailing.)
Nonnegotiable  Instruments-
All    registered    bonds,
warehouse receipts, checks,
drafts,
deeds,
wills,
abstracts,   and   similar
documents.  Certificates  of
stock
are
considered
nonnegotiable   so   far   as
declaration   of   value   is
concerned  unless  they  are
endorsed in blank.
No  value,  or  replacement
cost   if   postal   insurance
coverage  is  desired.  (See
note below)
Money
Full Value
Jewelry,  Gems,  Precious
metals.
Market value or cost
Merchandise
Market value or cost
Nonvaluables-matter   not
having  intrinsic  value  such
as letters, files, records, etc.
No  value,  or  replacement
cost   if   postal   insurance
coverage  is  desired.  (SEE
NOTE BELOW)
Note: Mailers who do not know replacement costs should
contact a person or firm familiar with such documents and
determine replacement costs before the articles are mailed.
Figure 7-1.—A guide for declaring the value of articles to be
registered.
PCf0702
DATE
DATE
Figure 7-2.—A parcel showing placement of the APDS for sealing.