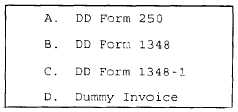 4-11.
4-12.
4-13.
4-14.
A blanket purchase agreement (BPA) is negotiated and
prepared by which of the following individuals or
organizations?
1. Ship's supply officer
2. Imprest fund cashier
3. Type commander
4.  Supporting  supply  activity  ashore
Under  the  fast  payment  purchase  procedures.
consignee's should notify the purchasing activity of
non-receipt of supplies due within how many days
after  the  specified  delivery  date?
1. 7 days
2. 14 days
3.  30  days
4. 60 days
A BPA is an arrangement established with a vendor to
furnish  designated  categories  of  material  for  an
indefinite  period  of  time?
1. True
2. False
The BPA fast payment procedure is designed to
accomplish  which  of  the  following  improvements?
1.
2.
3.
4.
Eliminate the time required for inspection of the
material before delivery aboard ship only
Eliminate the expense incurred for inspection and
acceptance of the material only
Permit  payment  to  the  supplier  when  the  material
is shipped only
Permit payment when material is shipped,
eliminate  inspection  and  acceptance  expense
incurred, and time required for inspection before
material is shipped
Learning Objective;  

Specify the procedures that should
be followed by the Storekeeper responsible for the receipt,
identification,  inspection,  and  disposition  of  incoming
stores.
4-15. Although the procedures used to receive stores, stow
materials,  and  process  receipt  documents  may  vary
from ship to ship, the procedures used must meet the
requirements set forth in which of the following
publications?
1. Naval Ships' Technical Manual
2. NAVSUP P-485
3. NAVCOMPT Manual
4. Consolidated Hazardous Item List
4-16.  The  supply  department  would  NOT  be  responsible  for
processing the receipt papers for which of the
following   items?
1. .45 caliber pistol
2. Spring for a 3"/50 gun
3.  Case  of  .22  caliber  practice  ammunition
4. Canteen for the landing force
4-17. Which of the following actions should be taken
regarding   receipts?
1. Date the document upon receipt
2. Circle the quantity accepted
3. Sign the document to indicate receipt
4. All of the above
Figure-4A.-Documentation
IN ANSWERING QUESTIONS 4-18 THROUGH 4-22,
SELECT FROM FIGURE 4A THE DOCUMENTATION
USED FOR THE MATERIAL LISTED AS THE
QUESTION.
4-18.  Material  ordered  from  another  ship.
1. A
2. B
3. C
4. D
4-19. Material from supply activities ashore.
1. A
2. B
3. C
4. D
4-20.  Material  from  a  contractor  ordered  by  an  inventory
manager  initiated  contract.
1. A
2. B
3. C
4. D
24