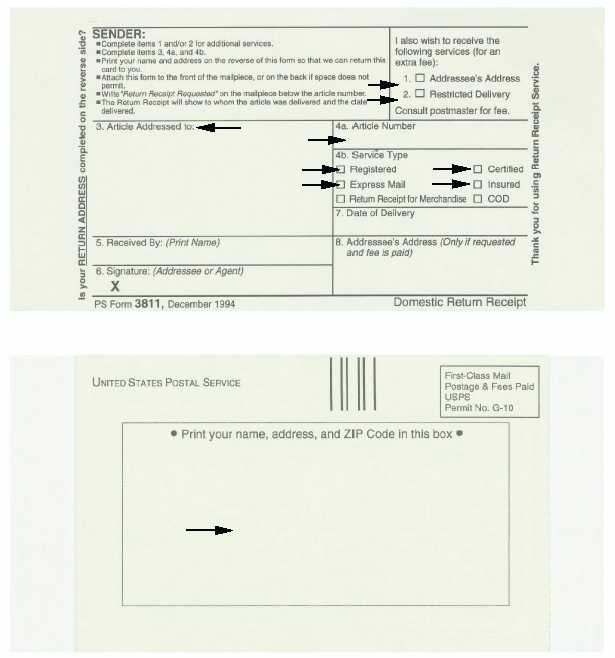 fee that will be collected.   Refer to Module R of the
DMM to find the correct fee.
Completing the Required Form
PS Form 3811, Domestic Return Receipt, is used
for return receipt service (see figure 5-9).  It is a green
two-sided form that is normally affixed to the address
side of larger parcels and to the back of envelopes or
small  parcels.   This  must  be  done  without  covering
other markings or endorsements.
Complete this form as follows:
Block 1:  Check this box ONLY when "Return Receipt
Requested Showing Address Where Delivered" service
is requested.
Block 2:  Check this box if "Restricted Delivery" service
is requested in addition to the return receipt.
Block 3:  Enter the complete name and address of the
addressee, just as it appears on the article presented for
mailing.
5-9
REVERSE
FRONT
VV   855 491 589 US
FLORENCE  FLEGLEMEYER
123 46TH ST
INDIANAPOLIS  IN  46205
PCSN JACK  FROST
NETPDTC
6490 SAUFLEY FIELD RD
PENSACOLA  FL  32509
X
PCf0509
Figure 5-9.

An example of a completed Domestic Return Receipt (PS Form 3811) (front/reverse).