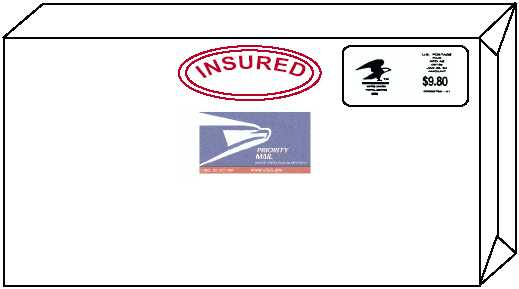 NUMBERED INSURED MAIL
For monetary value amounts for numbered insured
articles,  refer  to  Module  R  of  the  DMM.    Unlike
unnumbered   insured,   a   record   of   delivery   is
maintained  at  the  delivery  post  office  for  numbered
insured mail.  The addressee must sign for numbered
insured articles when the articles are delivered and a
record of delivery is kept by the post office of delivery.
Fee
The fee for numbered insured mail is based upon
the liability coverage requested. Liability amounts can
be found in Module R of the DMM.  The appropriate
fee for a numbered insured article is collected from the
customer in addition to the applicable postage and any
other  fees.    Refer  to  Module  R  of  the  DMM  for
insurance fees.
Completing the Mailing Receipt
After  determining  that  the  article  is  mailable,
complete Insured Mail Receipt (PS Form 3813-P) (see
figure 5-5).   The PS Form 3813-P is completed in a
similar  manner  as  the  PS  Form  3813.     It  is  an
original-only form that is retained by the mailer.   No
copy or record is kept at the post office of mailing.
Other special services such as PAL, restricted delivery
and return receipts can be combined with numbered
insured service.
The  following  instructions  explain  how  to
complete PS Form 3813-P:
Block  1:    Enter  amount  of  postage  to  be  collected
(include surcharge, discount or PAL fee).
Block 2:  Ask the mailer whether the package presented
for  insurance  contains  fragile,  liquid  or  perishable
matter.  If so, then mark the appropriate box.
Block 3:   Enter insurance fee based on the amount of
insurance coverage.
Block 4:  Enter the amount of insurance coverage.  This
amount must be the actual value of the content(s).
Block 5: Enter fee(s) for additional services requested.
Block  6:    Enter  the  total  of  postage  and  fee(s)  to  be
collected.
Block 7: Enter name of addressee (individual or firm).
Block 8:  Enter street address and number.
Block 9:  Enter city, state and ZIP Code, or APO/FPO
number.
Block 10:  Postmark with APDS.
Numbered Insured Endorsement
After completing the form, detach the numbered
insured mail stub from the left side of the PS Form
3813-P.  Peel the protective tape from the back of the
stub and place the stub on the address side of the article
above the address and to the right of the return address,
leaving room to affix postage stamps (see figure 5-6).
SPECIAL HANDLING
Special  handling  service  provides  preferential
handling  to  the  extent  practicable  in  dispatch  and
5-5
JANE DOE
1315 DAVIS AVE
COOKVILLE  TN   38501
PCSN   JACK FROST
NETPDTC
6490 SAUFLEY FIELD RD
PENSACOLA  FL  32509
PCf0504
Figure 5-4.

An example of an Unnumbered Insured Elliptical Stamp.