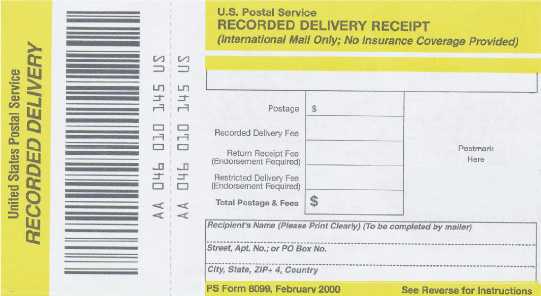 (PS Form 8099, Receipt for Recorded Delivery) and
affords  the  opportunity  to  obtain  confirmation  of
delivery  through  the  purchase  of  a  separate  return
receipt for an additional fee.   Like certified mail the
originating post office does NOT maintain a mailing
record.    However,  the  destination  post  office  is
required to retain a record of delivery for each recorded
delivery item delivered to an addressee.
Recorded delivery service is NOT available to all
countries.   Refer  to  the  Individual  Country  Listings
before acceptance.
The  sender  must  complete  PS  Form  8099  (see
figure 6-13) and place it on the address side above the
address  and  to  the  right  of  the  return  address.   The
accepting  clerk  must  verify  that  the  form  has  been
completed properly and that the correct fee and amount
of postage has been affixed, postmark the receipt and
return it to the mailer.
Customers can mail recorded delivery items at a
post office, or deposit them in street letter drop boxes if
a post office receipt is not desired.
SUPPLEMENTARY SERVICES (REPLY
COUPONS)
Every country requires that its own stamps be used
on outgoing mail.   International reply coupons offer
individuals  a  means  of  obtaining  postage  from  post
offices in foreign countries. Member countries of the
Universal  Postal  Union  purchase  international  reply
coupons and sell them at their respective post offices.
Although coupons sold in the United States have the
selling  price  printed  on  them,  coupons  of  other
countries  may  not.     One  of  these  coupons  is
exchangeable in any other member country for a stamp
or stamps representing the international postage on a
single-rate letter.
Only  post  offices  that  have  a  demand  for  reply
coupons  should  stock  them.    Reply  coupons  are
ordered  using  PS  Form  17  in  the  same  manner  as
ordinary domestic postage stamps. PS Form 17 will be
covered later in this training manual.
Q6-24.
Postal insurance is only available for what
class of international mail?
Q6-25.
What PS form is used when an insured receipt
is   issued   to   a   customer   who   requests
insurance coverage of an international parcel
post package?
Q6-26.   

What   is   the   PS   form   number   for   an
International Return Receipt?
Now turn to appendix 1 to check your answers.
INTERNATIONAL MAIL CHECKLIST
LETTERS
(IMM
220)
:    Letters  (current,  personal
correspondence) weighing 4 lbs. or less. If airmail, refer
to Section 145.3 of the IMM.   A customs form is not
required unless the country specifically requires it.
LETTER
PACKAGES
(IMM
220)
:     Letters  and
merchandise,  or  just  merchandise  weighing  4  lbs.  or
less.  If airmail, refer to Section 145.3 of the IMM.  Use
6-21
PCf0613
Figure 6-13.

An example of a PS Form 8099.