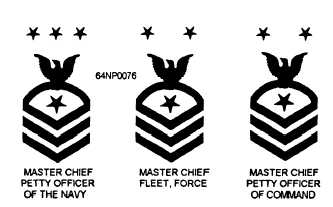 Seabee  Combat  Warfare  Specialist
Figure  2-5.—Sleeve  devices  for  MCPON,  fleet,  force,  and
command master chiefs.
Enlisted Surface Warfare Specialist
The designation of ESWS signifies that a Sailor has
acquired  specific  seagoing  skills,  knowledge,  and
experience and has demonstrated proficiency at the
professional  levels  of  competence  above  that  which  is
expected in the routine performance of duty in surface
ships.
Enlisted Aviation Warfare Specialist
The EAWS program recognizes the professional
qualifications of enlisted personnel serving in naval
aviation. Designation as an EAWS signifies that the
individual  has  attained  significant  professional  skills,
knowledge, and experience indirect support of the naval
air warfare mission.
The SCWS qualification recognizes the efforts of a
selected group of officer and enlisted individuals trained
in   military   defensive   combat,   advanced   base
construction,  and  naval  construction  operations.
These  warfare  qualifications  must  be  obtained
through the Navy's formal qualification programs as
prescribed  by  OPNAV  Instructions  1414.1  for  ESWS,
1412.5 for EAWS, and 1410.1 for SCWS.
SUMMARY
After reading the information in this chapter, you
should be able to understand the paygrade and rating
structure  of  the  Navy's  enlisted  occupations.  You
should also be aware that regardless of a member's
branch  of  service,  all  eligible  active  duty  enlisted
personnel  receive  pay  according  to  their  paygrades  and
years of service. You should be able to define the term
enlisted  personnel  

and  the  significance  of  the  letter  

E
and the numerical step that follows the  

E

such as

E-6.
As a PN, you should also be able to distinguish petty
officers from nonpetty officers and be able to understand
the  responsibilities  of  all  petty  officer  levels  including
that of the MCPON. You should be able to distinguish
the difference between the terms  

rate

and

rating.

You
also should be able to identify the various Navy ratings,
understand the different occupational fields, and know
something about each rating. Last, you should be able
to  understand  the  significance  of  special  designations
and  enlisted  warfare  qualifications.
2-28