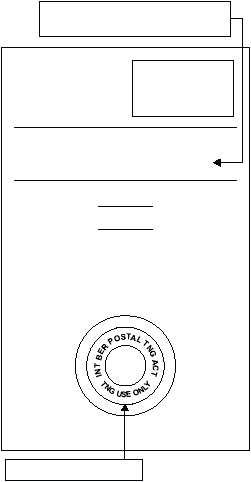 CASUALTY MAIL
Casualty  mail  is  unique  to  the  MPS.    It  can  be
divided into two categories, wartime and peacetime.
Wartime casualty mail is mail that cannot be delivered
or forwarded for various reasons.  Also included in the
casualty mail status are Missing in Action (MIA), and
Prisoner of War (POW).
Hold mail for personnel who are killed in action
(KIA) until absolute verification that the next of kin
have been notified is received. This verification comes
from the Command Element. This mail may be held as
long as necessary to prevent inadvertent disclosure of
casualty status before official notification of next of
kin. Once verification has been received, then the mail
should be returned to the sender or forwarded to the
next  of  kin,  accompanied  by  a  letter  from  the
Commanding   Officer   (refer   to   chapter   5   of
OPNAVINST 5112.6).
For  peacetime  purposes,  casualty  mail  refers  to
personnel  who  have  died  by  accident  or  have  been
killed;  personnel  who  are  missing,  or  have  been
hospitalized.  When a person dies, the procedures are
the  same  as  in  wartime.    Mail  will  be  held  until
verification of death is received.  Then the mail can be
forwarded or returned as needed.   Mail for personnel
that  are  hospitalized  can  be  forwarded  once  their
hospital address is known, or the mail can be held until
the person returns to the command or unit.
Endorse casualty mail as follows:
·   

DECEASED.   When the member has died and
next of kin has been notified.
·   

SEARCH.
When  the  member's  status  is
unknown and the mail is being forwarded to the
MPO or casualty mail section.
·   

PATIENT.
When   the   member   has   been
hospitalized  and  the  hospital  is  known  (also
include  the  ward  number  and  current  hospital
address).
·   

HOSPITAL  SEARCH.    When  the  member  is
evacuated  through  medical  channels  to  an
unknown hospital and mail is being forwarded to
a casualty mail section.
Under no circumstances should the endorsements
MISSING, KILLED IN ACTION, or WOUNDED be
placed on casualty mail.
DEAD MAIL
Dead mail is undeliverable matter that cannot be
returned to the sender.   Some reasons mail cannot be
returned to the sender include:
·   

Sender is unknown.
·   

Classification  of  the  mail  does  not  entitle  it  to
return service.
Process dead mail as follows:
·   

Endorse   the   article   with   the   reason   for
non-delivery.  If the addressee is unknown, then
endorse it "ATTEMPTED, NOT KNOWN."
·   

Prepare a PS Label 22, Dead Mail Matter (see
figure 11-24).  When the volume of dead mail is
more than one item, bundle the mail.  Prepare a
PS Label 22 and attach it to the top item only.
Each  dead  parcel  must  have  a  PS  Label  22
attached to it.
Send  all  dead  mail,  except  unendorsed  Standard
Mail  (A),  to  the  respective  Mail  Recovery  Center
11-25
PCf1124
First Class Mail
Postage & Fees Paid
USPS
Permit No. G-10
US POSTAL SERVICE
FOR MAIL RECOVERY CENTER
At  

ST

PAUL

MN

  

552001

-

9609
DEAD MAIL MATTER
When the amount of mail to be sent is sufficient for
pouching or sacking, fold this label and use as a pouch
or sack label; otherwise use it as a package label.
use this label for transmitting dead mail.
POSTMARK OF MAILING OFFICE
30
JUN
2001
Label 22, December 1994
Postmark with the APDS.
Enter the respective MRC address
base on your theater of operation.
Figure 11-24.—An example of a completed PS Label 22, Dead
Mail Matter.