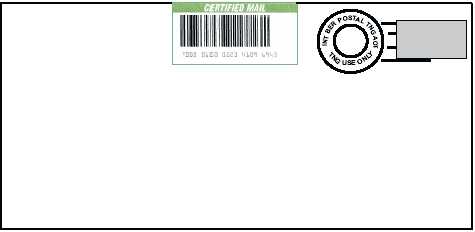 Endorsement
Mail for which restricted delivery service is requested,
must  be  endorsed  "RESTRICTED  DELIVERY."    The
endorsement must be placed above the delivery address
and to the right of the return address.  See figure 5-13.
Q5-1.
What service does certified mail provide?
Q5-2.
At  what  class  of  mail  must  postage  be  paid
before an article can be sent as certified mail?
Q5-3.
What is the maximum amount of insurance, if
any, that can be purchased for certified mail?
Q5-4.
PS   Form   3800   should   be   prepared   when
certified mail service is provided? (True/False)
Q5-5.
What benefit of service does postal insurance
provide?
Q5-6.
As a general rule, any parcel that is mailable
should be insurable.   (True/False)
Q5-7.
What publication should you refer to find the
maximum amount of indemnity for which an
article in the domestic postal system can be
insured?
Q5-8.
What  PS  form  is  issued  to  the  customer  for
unnumbered insured mail?
Q5-9.
What  PS  form  is  issued  to  the  customer  for
numbered insured mail?
Q5-10.   

A postal patron desires proof of mailing of an
article  in  the  mails  but  does  not  want  the
article   to   be   sent   registered,   insured,   or
certified. With what service should this patron
be provided?
Q5-11.   

Return  receipt  for  merchandise  can  be  used
with what classes of mail?
Q5-12.   

Where   is   the   endorsement   RESTRICTED
DELIVERY placed on an article to be mailed?
Now turn to appendix 1 to check your answers.
CHECKLIST FOR SPECIAL SERVICES
The following information is provided for assisting
you  in  understanding  the  procedures  for  handling
domestic special services. See table 5-1 (next page).
5-13
MS FRANNIE FLAGGLEMEYER
18 MADISON AVE
PHILADELPHIA  PA 19153
PCSN JACK FROST
NETPDTC
9490 SAUFLEY FIELD RD
PENSACOLA    FL  32509
PCf0513
RESTRICTED DELIVERY
DATE
Figure 5-13.

An example of proper placement of a Restricted Delivery endorsement.